NAMED WINNER OF THE KNOT BEST OF WEDDINGS 2019 and 2020
Exciting Productions has been selected for this award, which represents the highest- and most-rated wedding professionals as reviewed by real couples, their families and wedding guests on The Knot.    this distinguished award.   See all of the reviews of Exciting Productions on The Knot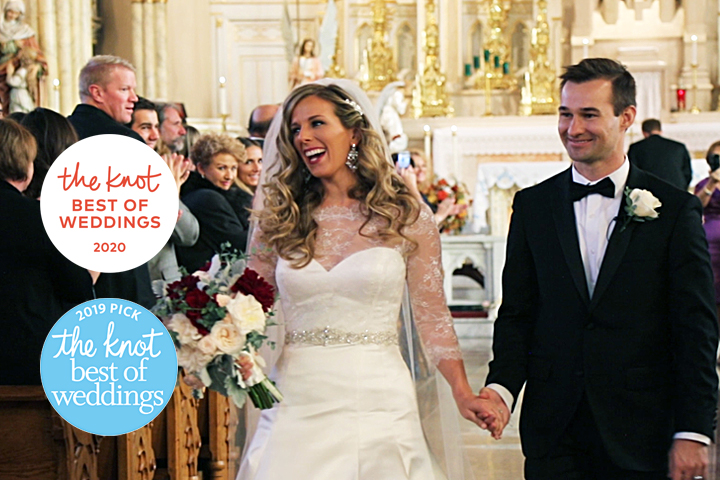 A review from Tiffany & Steve's Wedding Day: September 15, 2019.   
"So happy that we hired James to film our wedding day. He was a pleasure to work with, and I couldn't be happier with how the videos turned out.  I met with James in person once and spoke to him on the phone once before the wedding so that he could get to know us better and get a better idea of what we were looking for him to capture. We opted for the 8 hour package and I'm so glad we did because he was able to capture moments from us getting ready, to the ceremony, to the cocktail hour and dinner, and dancing. We received our 8 minute highlights video DAYS after the wedding (we were able to watch it while watching the sun set on the beach on our honeymoon, which was magical), and we received our full length video less than three weeks after the wedding. I couldn't believe how fast he got it all done! We loved watching the video and all of the memories, and I couldn't be happier with how it all turned out. Highly recommend!!! Thank you, James!" See all of our reviews on The Knot
Hello! I'm James Campbell, the lead weddings and event videographer.
Producing videos that people cherish is our passion and everything we do! Several videographers work with me to film weddings and events all over Michigan and Ohio.  I've selected videographers that are really nice people to work with, people that have outstanding professional video equipment, and are experienced in creative filming.
Couples really appreciate how organized we are in preparing to film their wedding, and how prompt we are in answering their questions.  Since we've filmed hundreds of weddings, couples often ask us for advice and suggestions.  Before each wedding, we contact the photographer, DJ and officiant to coordinate our services and establish a friendly working relationship.  We're all about helping to make this the best day of your life, and providing you with a video you'll love watching over and over.    You'll find we offer you many options and very affordable prices!
See our videos on YouTube,  Vimeo, and Facebook.    See our videos and reviews on The Knot